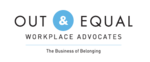 Out & Equal Outies: LGBTQ+ Corporate Advocate of the Year Award Nominations
Out & Equal Workplace Advocates
This award recognizes an LGBTQ individual who is actively advocating to improve their organization's inclusion efforts, pushing significant adoption of best/innovative practice, benefitting LGBTQ employees and advancing their organizations standing as a true leader in this work. This person goes above and beyond to push for diversity and inclusion. Advocates are bold and are making a difference outside their workplace to drive change and equality in their community, their country, and the world.
Out & Equal strongly encourages nominations of people of color, transgender and nonbinary people, people with disabilities, women, and other individuals who tend to be underrepresented in workplace leadership positions
Call Closed
This call is no longer accepting submissions. For a list of calls that are currently open in ProposalSpace, check out our active calls page.