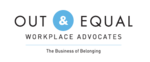 Out & Equal Outies: Workplace Excellence Award Nominations
Out & Equal Workplace Advocates
This is the most prestigious Outie. It recognizes an employer that has a historic and ongoing commitment to pursuing and executing workplace equality for LGBTQ employees in their workplace. This employer has a history of not only continually raising the bar of workplace equality for others to follow but also supports other organizations' diversity and inclusion efforts as well through active knowledge sharing and peer organization mentoring.
Start a nomination
To start a nomination for this call, sign in to your ProposalSpace account.
Don't have an account? Register for free.