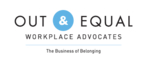 Out & Equal Outies: Employee Resource Group of the Year Nominations
Out & Equal Workplace Advocates
This award recognizes a particular Employee Resource Group (ERG) that has a proven track record of success. A top contender will be an ERG that is continuously elevating diversity, implementing intersectional and collaborative programming with other ERGs, and advocating for LGBTQ equal rights in its workplace.
Start a nomination
To start a nomination for this call, sign in to your ProposalSpace account.
Don't have an account? Register for free.