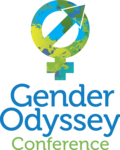 2020 Gender Odyssey San Diego - Call for Workshops
Gender Diversity
Gender Odyssey San Diego is now accepting workshop proposals for our 2020 conference to be held on June 18th - 21st! Seeking submissions for the following tracks:


GO Pro, our professional track, which offers programming for medical and mental health providers, social workers, educators and school administrators, legal professionals, human resources and other employment professionals, students pursuing these and other career fields, and many others who have interest in serving the trans community.
GO Family, our track for parents and caregivers, which includes a wide variety of topics geared to families raising and supporting transgender and gender-diverse children and youth.
GO Youth (13-18), which offers programming to address the needs and interests of trans, gender-diverse, and exploring youth.
GO Young Adult (19-22), which offers programming for older teens and young adults preparing to leave home and those recently launched.
Workshops are 80-90 minutes in length; allotting 20-30 minutes for Q&A is strongly encouraged!
All proposals must be submitted by 11:59 pm (PST), November 17, 2019.
Call Closed
This call is no longer accepting submissions. For a list of calls that are currently open in ProposalSpace, check out our active calls page.