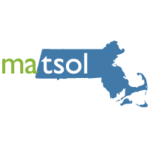 2020 MATSOL Conference - Call for Proposals
Massachusetts Association of Teachers of Speakers of Other Languages (MATSOL)
The MATSOL 2020 Conference brings together educators from across the Commonwealth of Massachusetts working with English language learners in all PK-12 schools and program types.
MATSOL encourages engaging, interactive presentations that make the theory to practice connection. Successful proposals include practical classroom activities informed by current research and pedagogy, demonstrations of successful instructional practices, examinations of current issues in education, and research that informs educators in the Massachusetts context. Presentations should engage the audience through hands-on or interactive activities when possiblle.
Conference Date & Location: May 26-29, 2020 at Sheraton Framingham Hotel and Conference Center, Framingham MA
Proposal deadline extended to Monday, December 16, 2019 11:59 PM
See www.matsol.org/2020-conference to download the Call for Proposals.
Call Closed
This call is no longer accepting submissions. For a list of calls that are currently open in ProposalSpace, check out our active calls page.