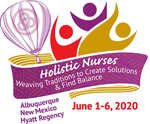 2020 Conference Workshop
American Holistic Nurses Association (AHNA)
AHNA's 40th Annual Conference, June 2 - June 7, 2020 in Albuquerque, New Mexico
Holistic Nurses Weaving Traditions to Create Solutions and Find Balance
Proposals relevant to holistic nursing are requested in the broad categories of practice, research, education, praxis, personal & professional development, aesthetics, nurse coaching, and advanced practice. Submissions are anticipated to reflect the conference purpose & theme.
Purpose:
The purpose of this conference is to enable participants to weave the historical foundations and traditions of holistic nursing into the creation of strategies that will solve and balance current and future healthcare systems.
Theme:
We live in a time of dynamic, rapidly evolving, and complex challenges that present untold opportunities for a holistic vision of healthcare. Holism is a solid foundation upon which we can create a future of true whole person caring. This conference will explore ways holistic nurses can integrate the rich traditions of healing into their health care practice. Through sharing of traditional practices grounded in the Core Values that reflect the Philosophies, Research, Ethics, Leadership, Holistic Communication, Therapeutic Relationships, Healing Environments, Cultural Humility, as well as Self-Reflection, Self-Development and Self-Care, participants will explore innovative ways to weave the traditions of various healing cultures into their nursing practice with a focus on creating new solutions and integrating life balance.
AHNA Core Values
Core Value 1. Holistic Philosophies, Theories, and Ethics
Core Value 2. Holistic Nurse Self-Reflection, Self-Development and Self-Care
Core Value 3. Holistic Caring Process
Core Value 4. Holistic Communication, Therapeutic Relationship, Healing Environments, and Cultural Care
Core Value 5. Holistic Education and Research

L

earning Outcomes:
Explore theories and ethics that ground holistic nursing and healing practices and expand clinical nursing practice, professional performance, and role development within the traditions of holistic nursing. CV# 1

Examine ways to become more aware of oneself and reflect on the values, beliefs, and perceptions embedded in our culture which can influence holistic practice. CV# 2

Discuss ways to empower the client as a whole person; developing a holistic caring therapeutic relationship. CV# 3

Reflecting on our historical background, create dialogue that addresses Holistic Communication, Therapeutic Relationship, Healing Environment, and Cultural Humility. CV #4

Explore theories and research that ground holistic nursing practice, professional performance, and role development rooted in traditions. CV# 5
.A wide range of topics are expected to be shared through educational presentations that may be accomplished in one or more of the following ways:
Experiential & "How To"

– Provide new skills and hands-on learning experiences that learners may take back to their practice and daily lives for immediate application.
Successes – Share how you have successfully built on earlier foundations and incorporated lessons from history into your current practice so that learners may benefit from your experiences in forging new paths in holistic nursing.
Focused-Dialogues – Facilitate dynamic group discussions and share how the history of nursing as a discipline and holistic nursing as a specialty practice informs contemporary holistic nursing practice. How can we, as holistic nurses, integrate the experiences of our early leaders into current practice. Together, explore the importance of remembering the past...and creating ways to take purposeful, conscious, intentional action for holistic nursing and humanity.
Call Closed
This call is no longer accepting submissions. For a list of calls that are currently open in ProposalSpace, check out our active calls page.