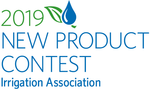 2019 Irrigation Show New Product Contest
Irrigation Association
Welcome! The Irrigation Association invites all 2019 Irrigation Show exhibitors to submit an application to be considered for inclusion in the 2019 New Product Contest. You must be a 2019 Irrigation Show exhibitor to participate.
Eligibility requirements and rules of the contest are available on the following page of the Irrigation show site: New Product Contest Eligibility & Rules. Go to the 2019 Irrigation Show website to learn more about the 2019 Irrigation Show & Education Week.

If you have questions or need additional information, please contact Tiffany Wilson, via email at tiffanywilson@irrigation.org or by phone at 703.536.7080.
This call is no longer accepting submissions.