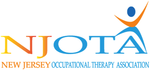 NJOTA 45th Annual Conference Call For Papers
New Jersey Occupational Therapy Association (NJOTA)
NJOTA will hold its 2019 Annual Conference on Sunday, October 6th at Seton Hall University (Nutley campus). Keynote speaker, Holly Cohen, OTR/L, ATP, SCEM will present "Creativity, Collaboration, and Curiosity: Shaping Occupational Therapy in the Present and Future."
Authors are invited to submit their proposal(s) between April 15th through May 24th. Only online submissions will be accepted. It is important that you complete each category of the proposal. When completing presenter information, it is necessary to list each presenter's complete name, professional credentials, and e-mail address.


Presentation Types:

Short Course
Poster Session
Workshop (3 hours)



AV needs – Please provide AV information on the submission form if you are not bringing your own equipment/devices. You will be notified if Seton Hall cannot fulfill your request.
Presenters will receive an e-mail notification regarding the acceptance status of their proposal. At the time registration opens, each presenter must register for the conference at a reduced presenter rate.
Call Closed
This call is no longer accepting submissions. For a list of calls that are currently open in ProposalSpace, check out our active calls page.