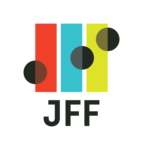 Postsecondary State Network Meeting
JFF
The Postsecondary State Network meeting is a semi-annual event hosted by JFF for its network of leaders, change-makers, and partners. Over two days, nearly 200 educators, administrators, employers, advocates, researchers, and others will explore questions around supporting students holistically as they navigate learning systems throughout their lives. We will look at barriers that affect student stability and success, as well as what motivates students to participate in learning communities.
Please contact Grace Ausick at gausick@jff.org with any questions.
This call is no longer accepting submissions.